This is Level 6 of the Winter Games in Run 3.
This is the first level to use the obstacle of moguls. Moguls are a bunch of ramps compounded in one area, which makes is hard to see them and may unexpectedly send you in the air or prevent you from turning properly, or completely as a less agile character.
However, this level is rather easy compared to others which use this obstacle. Just keep on the lookout for these bunches. They can be quite troublesome. The spiralling itself isn't much of a problem, as maneuverable characters will guide themselves easily, and fast characters can just skip the spiral entirely,
Overall, this level isn't very hard, despite the introduction of mogul skiing.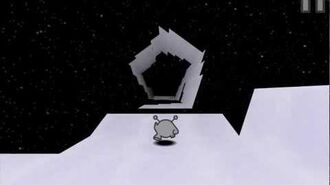 Community content is available under
CC-BY-SA
unless otherwise noted.